Recipe: Chocolate-Banana Marble Bread
Source: The Art & Soul Of Baking by Cindy Mushet
Description: Here's a banana bread that's soft, tender, and bursting with bananas, yet not overly sweet as so many versions are. The key is an intensely bitter cocoa-powder paste added to half of the batter, resulting in a deep, rich chocolate flavor that pairs perfectly with the sweetness of the bananas. The two batters are marbled together, producing a beautiful pattern and adding a sophisticated note to this all-American favorite. Because of the moisture that the bananas add, the loaf keeps well for at least 4 to 5 days at room temperature, and it freezes so well that you can put a couple of them away for unexpected visitors. Be sure the bananas are ripe and soft, with plenty of black spots speckling their skins, or you won't have the burst of banana flavor you want. Whirl them in a food processor for an ultra-smooth puree, or mash thoroughly with a fork if you prefer.


Ingredients:

+ 2 large or 3 medium very ripe bananas, at room temperature
+ 1/4 cup [2 ounces] buttermilk, at room temperature
+ 2 teaspoons pure vanilla extract
+ 2 cups [7 ounces] sifted cake flour
+ 1 teaspoon baking soda
+ 3/4 teaspoon baking powder
+ 1/4 cup [1 ounce] unsifted unsweetened Dutch-process cocoa powder
+ 3 tablespoons [1 1/2 ounces] boiling water, plus more if needed
+ 1 1/2 sticks [6 ounces] unsalted butter, softened [65° to 68° F]
+ 1 cup [7 ounces] sugar
+ 2 large eggs at room temperature, lightly beaten


Equipment:

+ 9 by 5-inch loaf pan
+ food processor fitted with a metal blade [optional]
+ two medium bowls
+ fine-mesh strainer
+ small bowl
+ whisk
+ stand mixer fitted with a paddle attachment
+ silicone or rubber spatula
+ cooling rack


Instructions:

1) Preheat the oven to 250°F and position an oven rack in the center. Lightly coat the loaf pan with melted butter or high-heat canola-oil spray and line it with a piece of parchment paper that extends 1 inch beyond the long edge of both sides of the pan. Peel the bananas and place them in the bowl of the food processor. Process to a smooth puree. [Alternately, mash them in a bowl using a fork.] Measure out 1 cup of the puree and transfer it to a medium bowl, discarding the rest of the puree or saving it for another use. Add the buttermilk and vanilla and whisk just until blended. Set aside.
2) Use a fine-mesh strainer to sift the cake flour, baking soda, and baking powder together into a medium bowl. Whisk to blend well. Set aside. Place the cocoa powder in the small bowl. Pour the boiling water over the cocoa and stir until it forms a smooth paste--it should run thickly off the spoon. If it is too thick, add another tablespoon of boiling water and stir again. Set aside.
3) Place the butter and sugar in the bowl of the stand mixer. Beat on medium-high speed until the butter is very light, almost white in color, 4 to 5 minutes. Scrape down the bowl with a spatula. Turn the mixer to medium speed and add the eggs, 1 tablespoon at a time, completely blending in each addition before adding the next. About halfway through the eggs, turn off the mixer and scrape down the bowl with the spatula, then continue adding the rest of the eggs. Scrape down the bowl again.
4) With the mixer running on the lowest speed, add one-third of the flour mixture. Just as it is barely blended and you can still see a few patches of flour, add half the banana mixture. Repeat with the remaining flour and banana mixtures ending with the flour. Scrape down the bowl and finish blending the batter by hand.
5) Transfer half of the batter to the second medium bowl. Add the cocoa paste and, using the rubber spatula, gently but thoroughly blend it into the batter..
6) Drop alternating spoonfuls of dark and light batters into the prepared pan, then marblelize by using a spoon to gently turn the batter over in 3 places down the length of the pan.
7) Bake the banana bread for 55 to 65 minutes, until firm to the touch and a toothpick inserted into the center of the loaf comes out clean. Transfer to a rack to cool completely. When cool, remove from the pan, peel off the parchment paper, and cut slices by sawing gently with a serrated knife.

Storing: Chocolate Banana Marble Bread can be made 4 to 5 days ahead and kept at room temperature, wrapped in plastic wrap. It freezes beautifully for up to 8 weeks when double-wrapped in plastic and placed inside a resealable plastic freezer bag. Defrost, still wrapped in plastic to avoid condensation on the loaf, for 2 hours before serving.

Yield: 1 loaf





+ Tips, Tricks and Takes +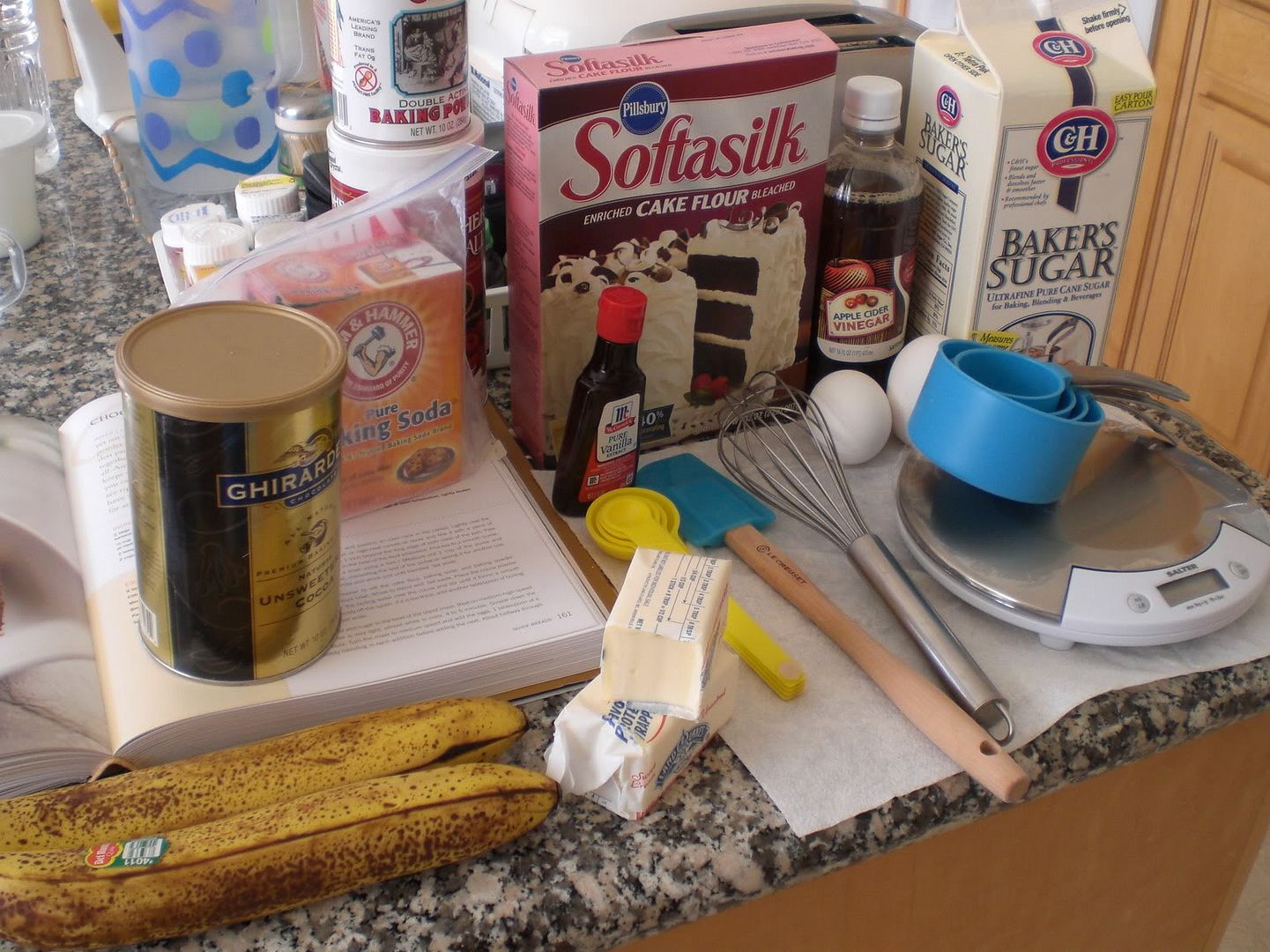 MEP! I hope you know what that means by now. If you don't, check Recipe #1! And why the apple cider vinegar? Well, you'll find out in a moment...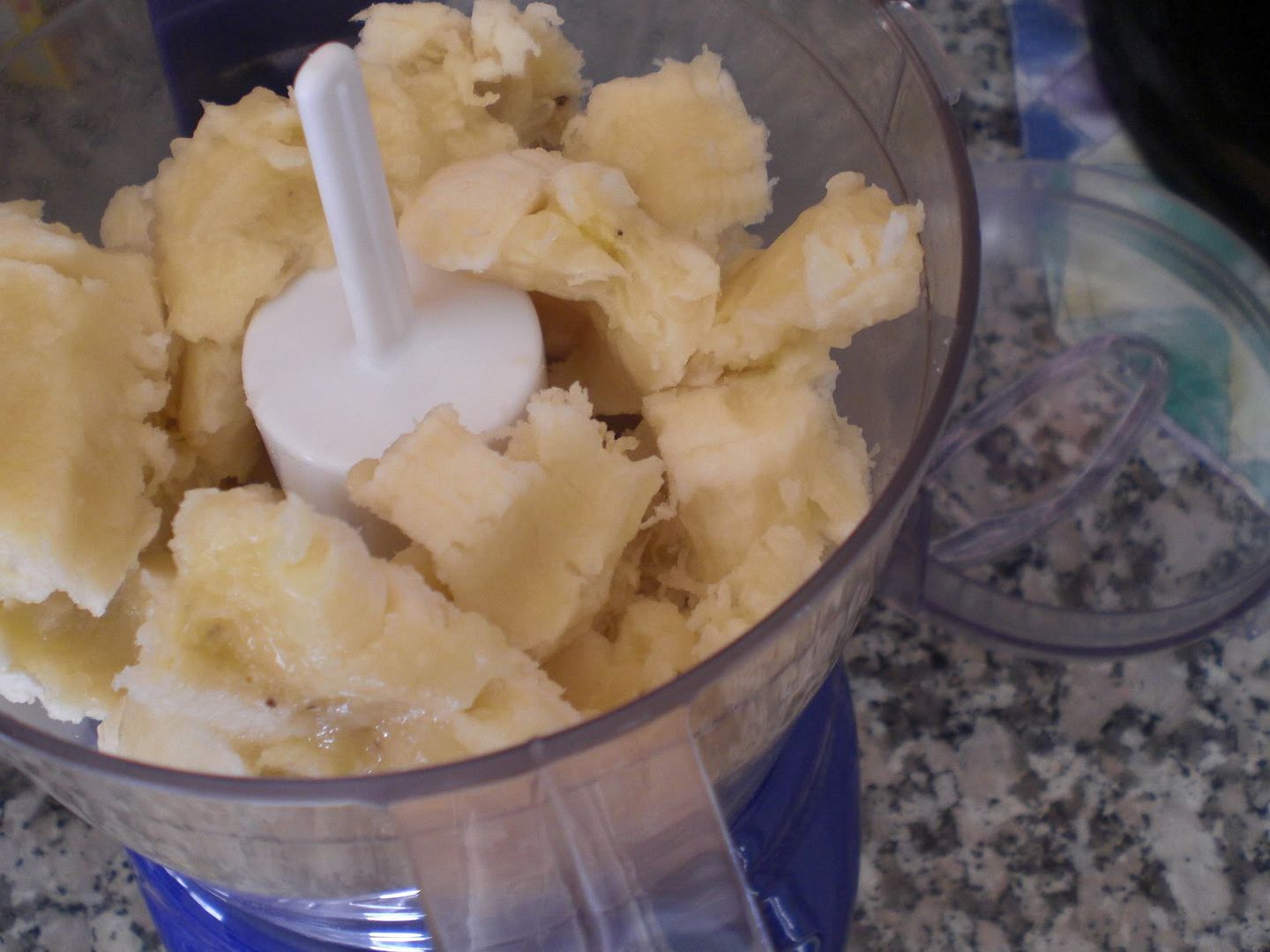 Mini food processor! I sectioned off the bananas so my baby food processor would have an easier time processing said bananas.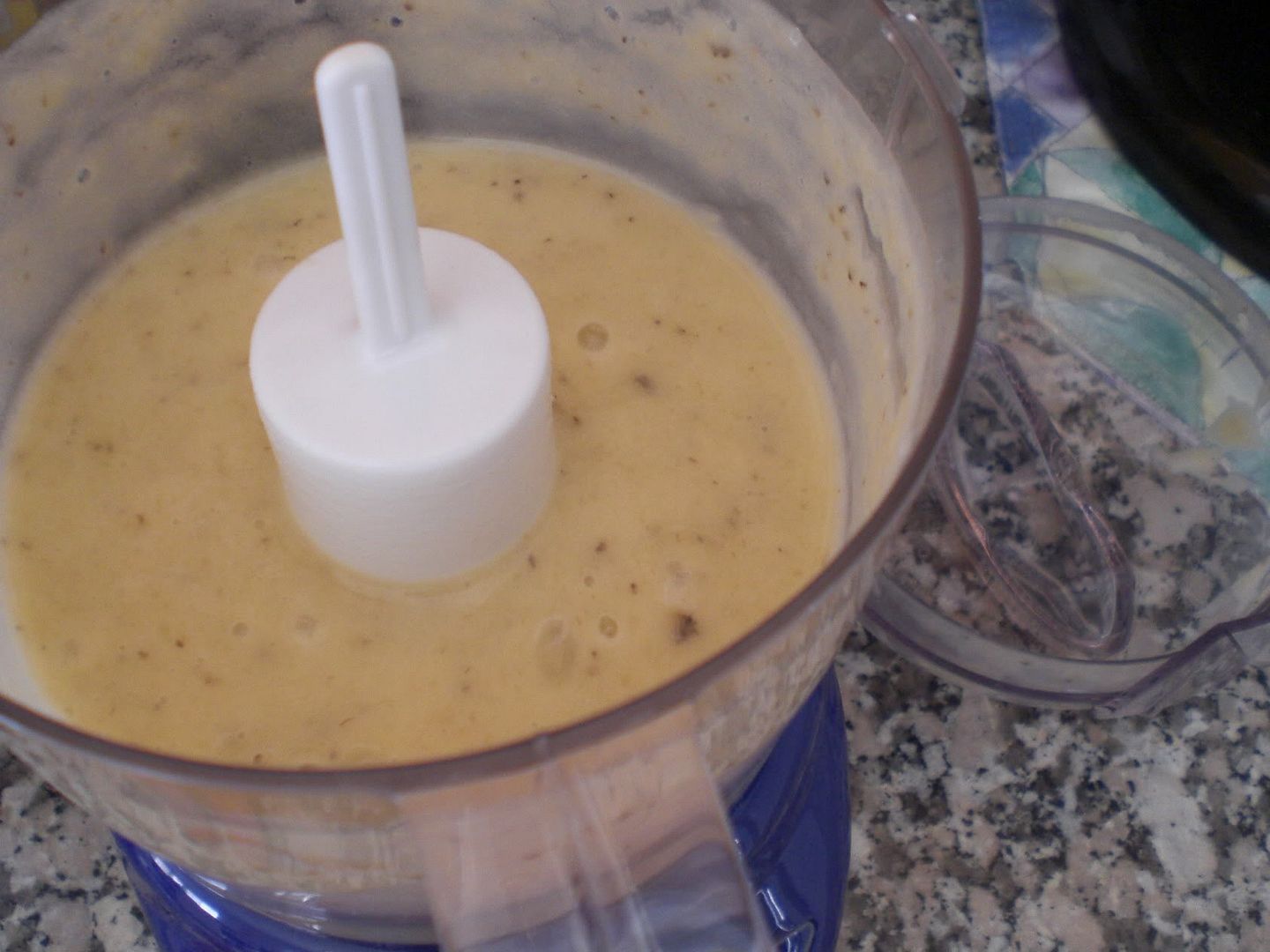 Puree never looked so yummy.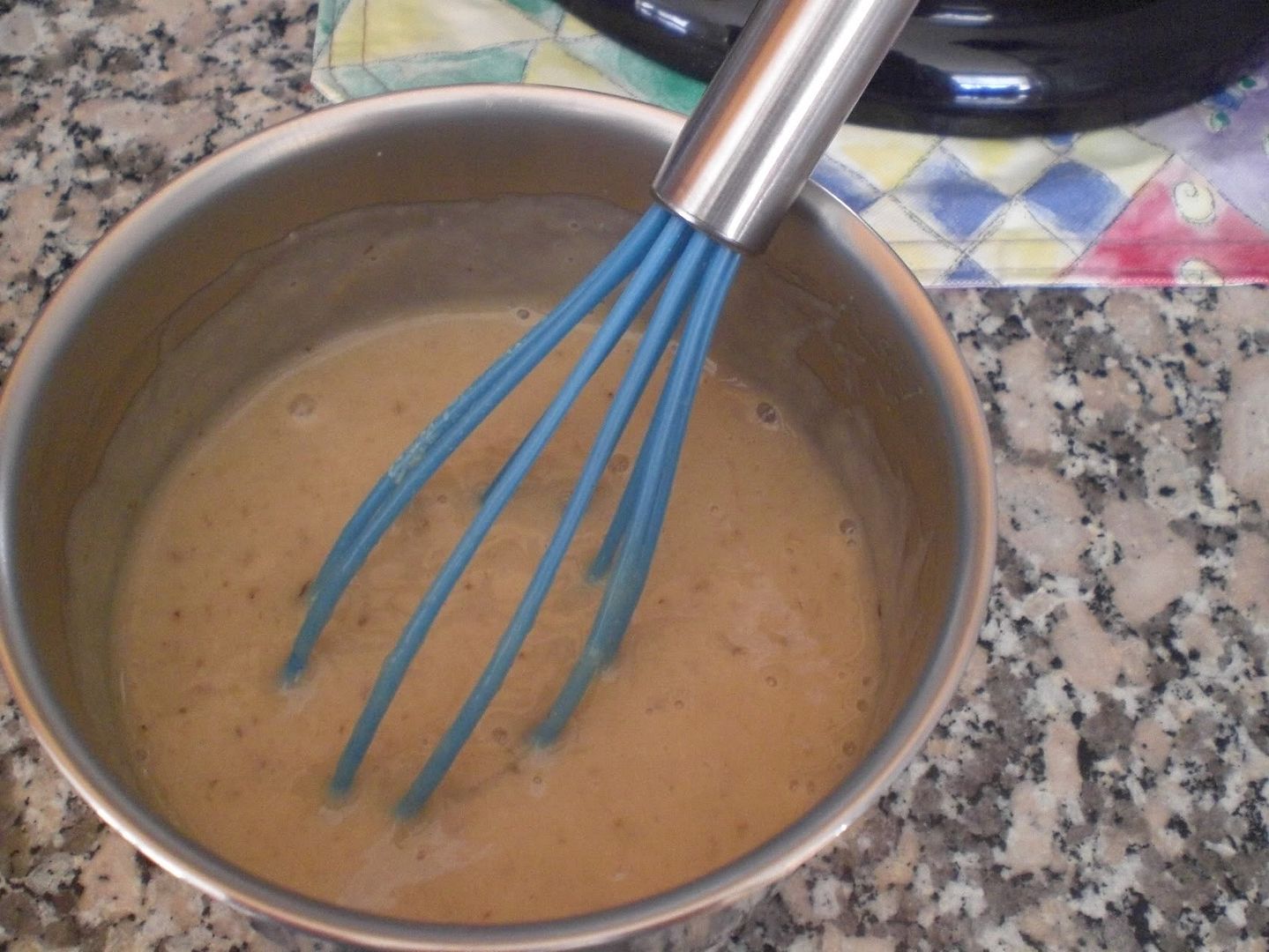 By the way, I don't measure out the banana puree anymore because 2 large bananas are usually enough. This is where you add the buttermilk and vanilla. HOWEVER. If you're like me and never really have buttermilk around, Cindy Mushet offers a quick substitute: 1 cup of milk combined with 1 tablespoon of lemon juice or cider vinegar. And if you need 1/4 cup of buttermilk, guess what I do: 1/4 cup of milk+1/4 tablespoon! That's TABLESPOON. TABLE. Not tea. TABLE. [I say this because otherwise, you're going to reach for the 1/4 teaspoon spoon, right?]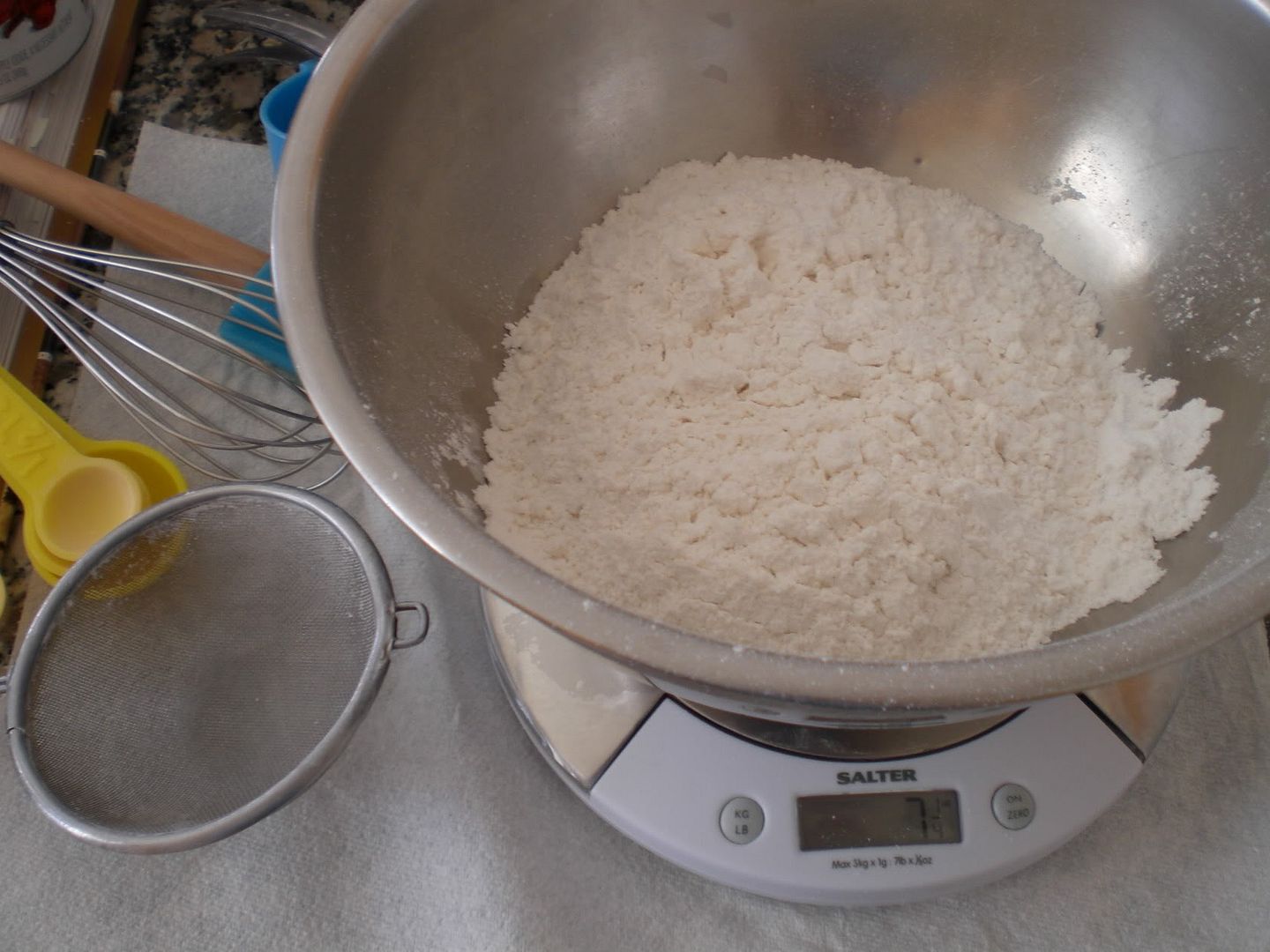 Sift sift sift. This would be cake flour, baking soda and baking powder mind you.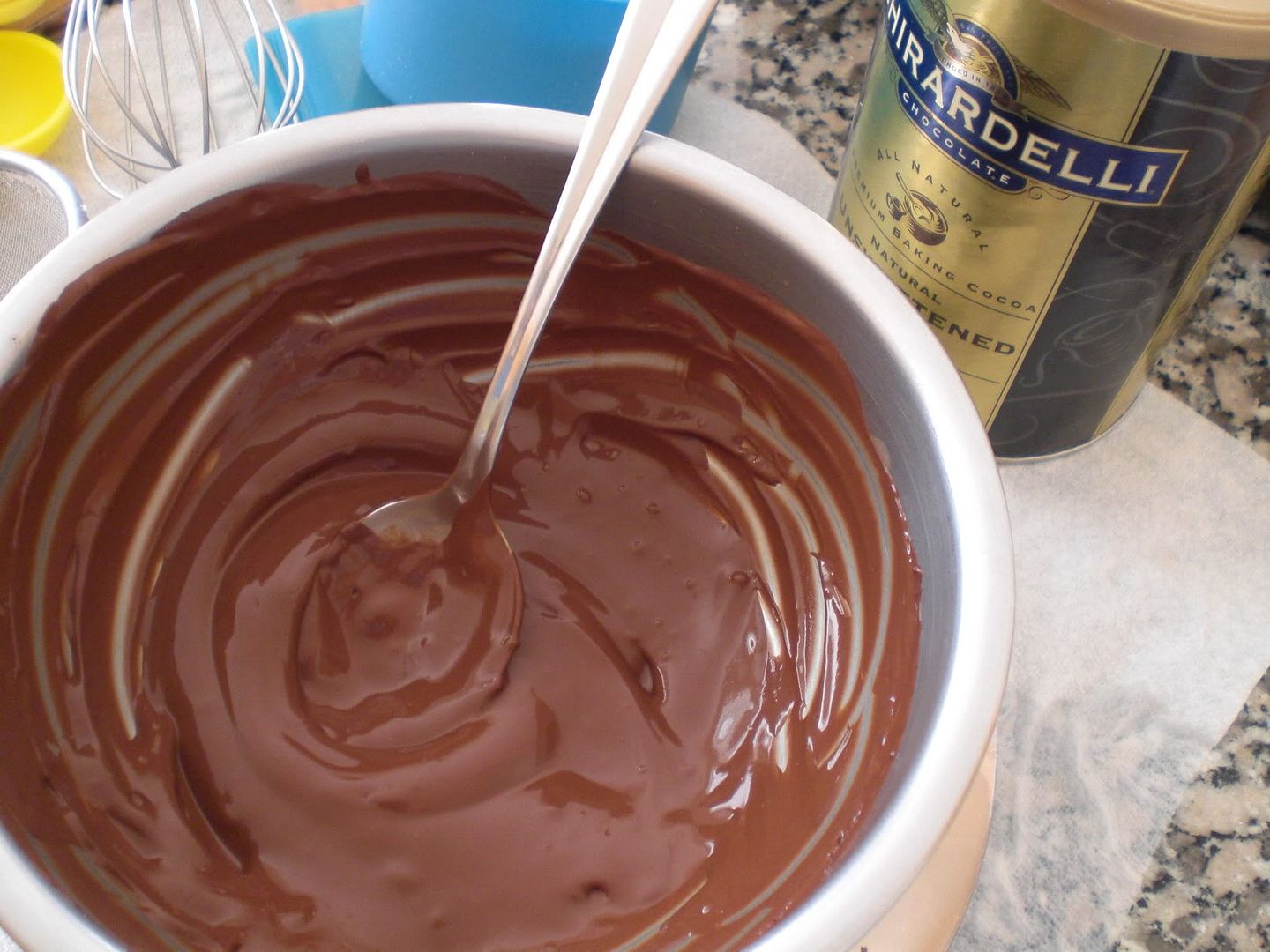 Yum. Although it's really not all that yummy because its unsweetened cocoa powder plus water. >.< Put the powder in a bowl, and mix in the 3 tablespoons of boiling water. When it's not enough [because it never is for me...] add only a little at a time. It says to add one more tablespoon at a time but it sometimes won't take that much.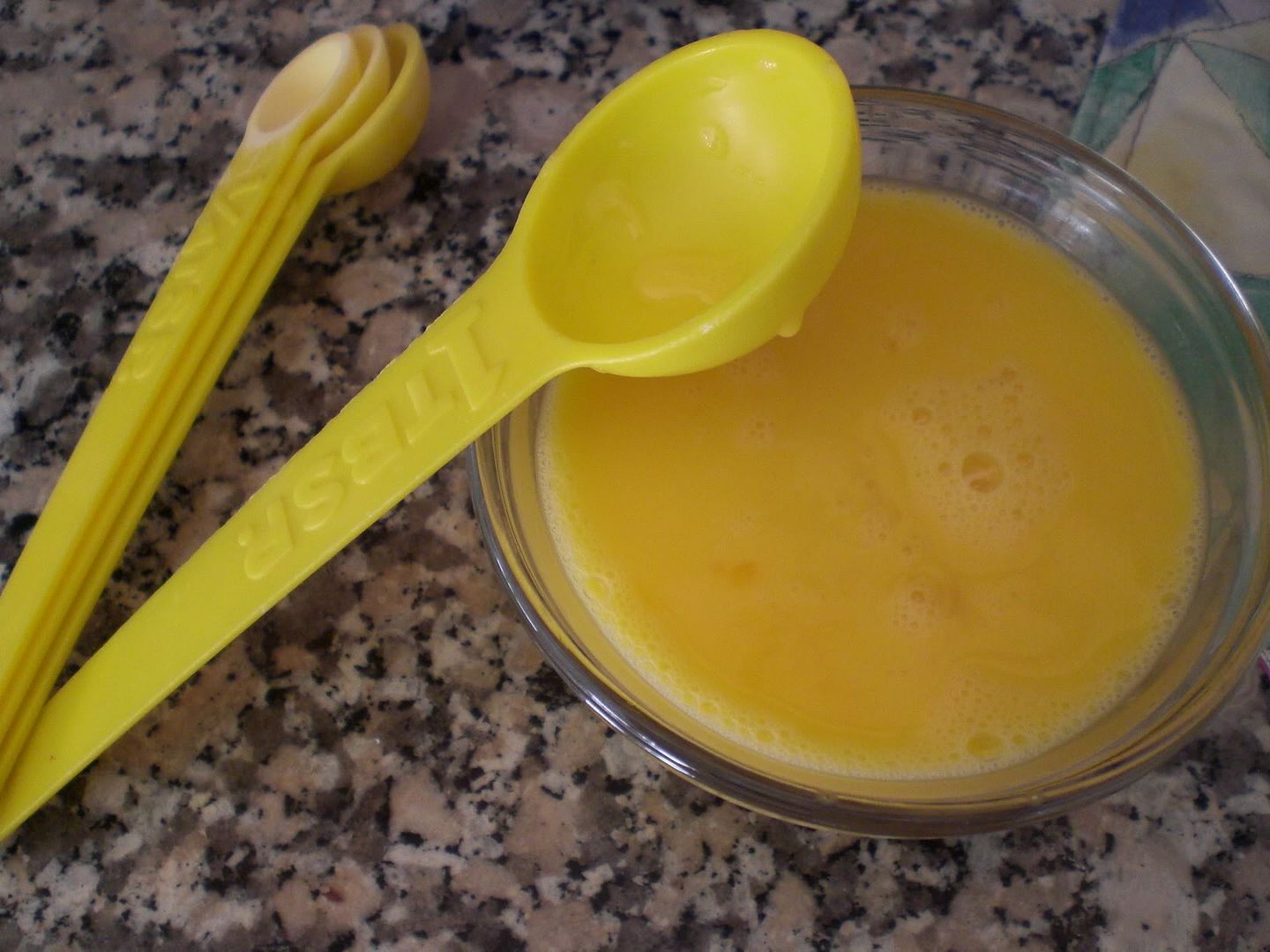 Eggs! Which you're supposed to add to the batter one tablespoon at a time. Hence, the tablespoon.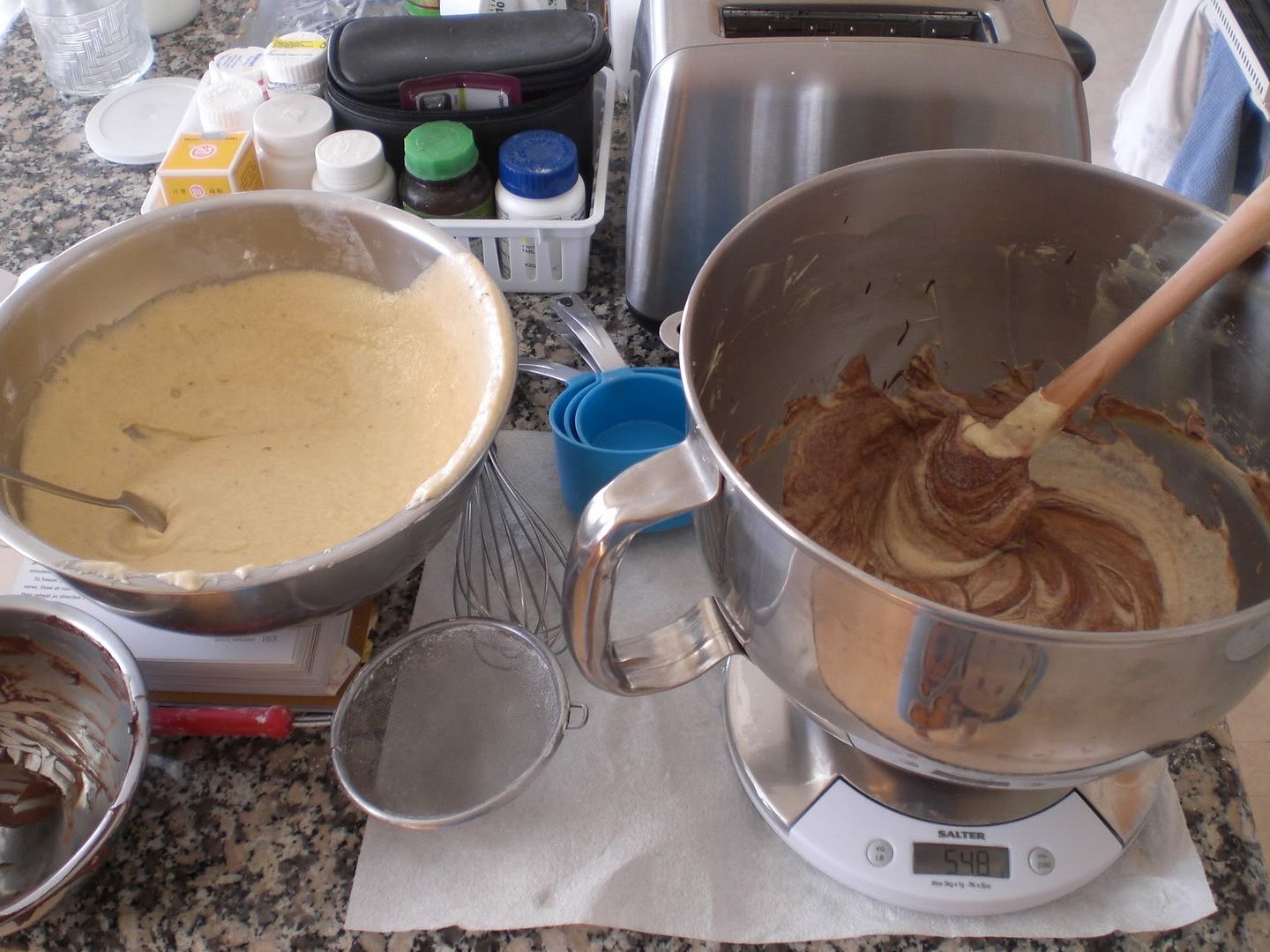 This part's kinda tricky. And requires a bit of math [only if you want to be perfectionisty like me.] So you have two batters, one chocolate and one regular. But when you split the regular batter into two, you need to add the chocolate mixture from before into one of the batters. When you do that though, you're going to have more chocolate batter than the regular...get it? So something like this: 1000 g of batter, 50 g of chocolate mixture. Divide batter: 500 g and 500 g. Add the 50 g of choco to one side...550 g and 500 g. See? Uneven! Look at the next step and I'll tell you why that's so troublesome.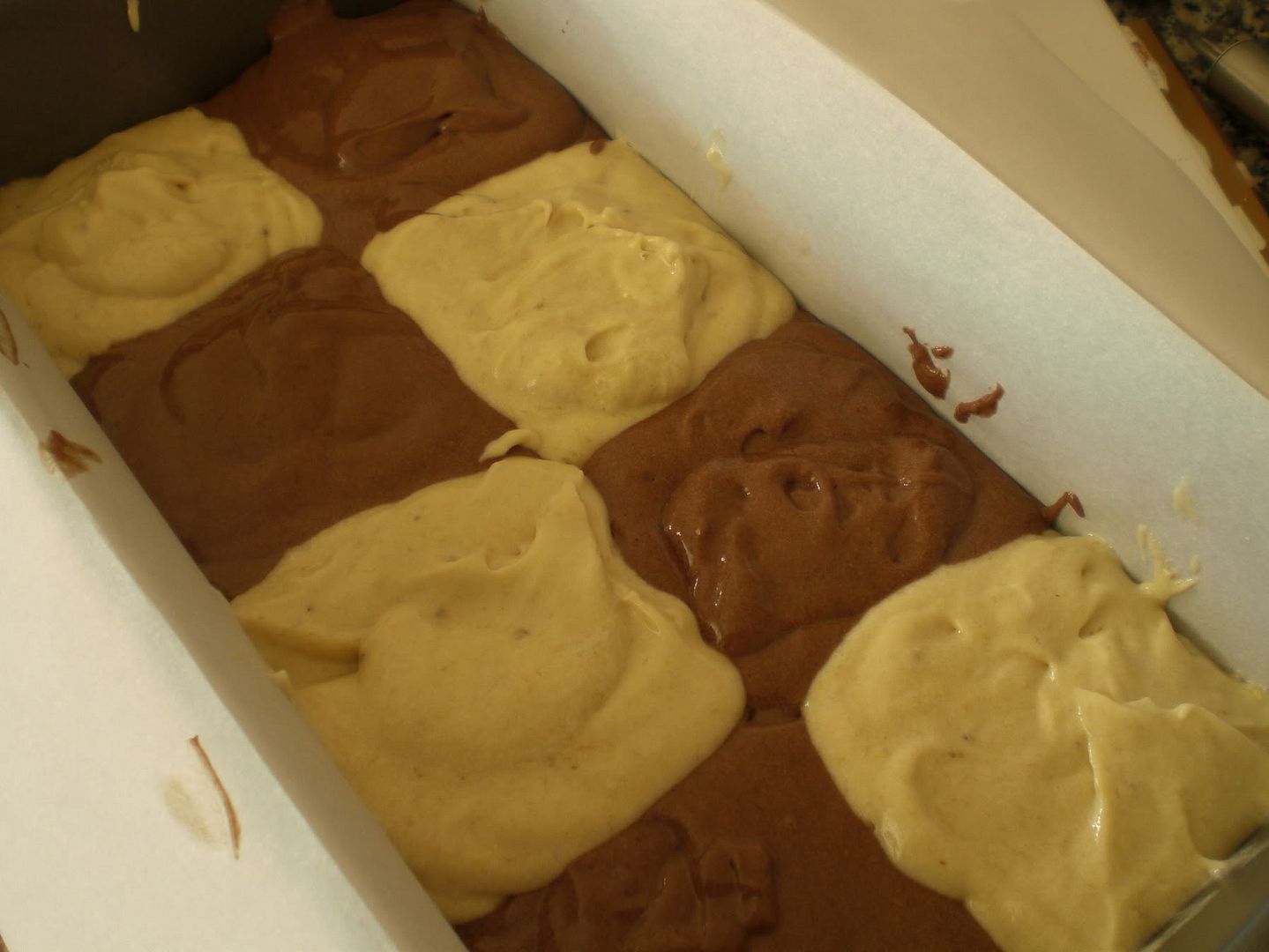 So when you reach this step, if you have more chocolate it'd be a little troublesome...of course you're going to marblelize it anyway so if you don't care about the inconsistency, feel free to skip my ranting. Otherwise, this is what I usually do: so we have the 500 g, 500 g and 50 g yes? Take 25 g out of one of the 500 g's and add the 50 g to the one with less: 475 g + 50 g [which = 525 g], 500 g + 25 g [which also = 525 g]. Yay!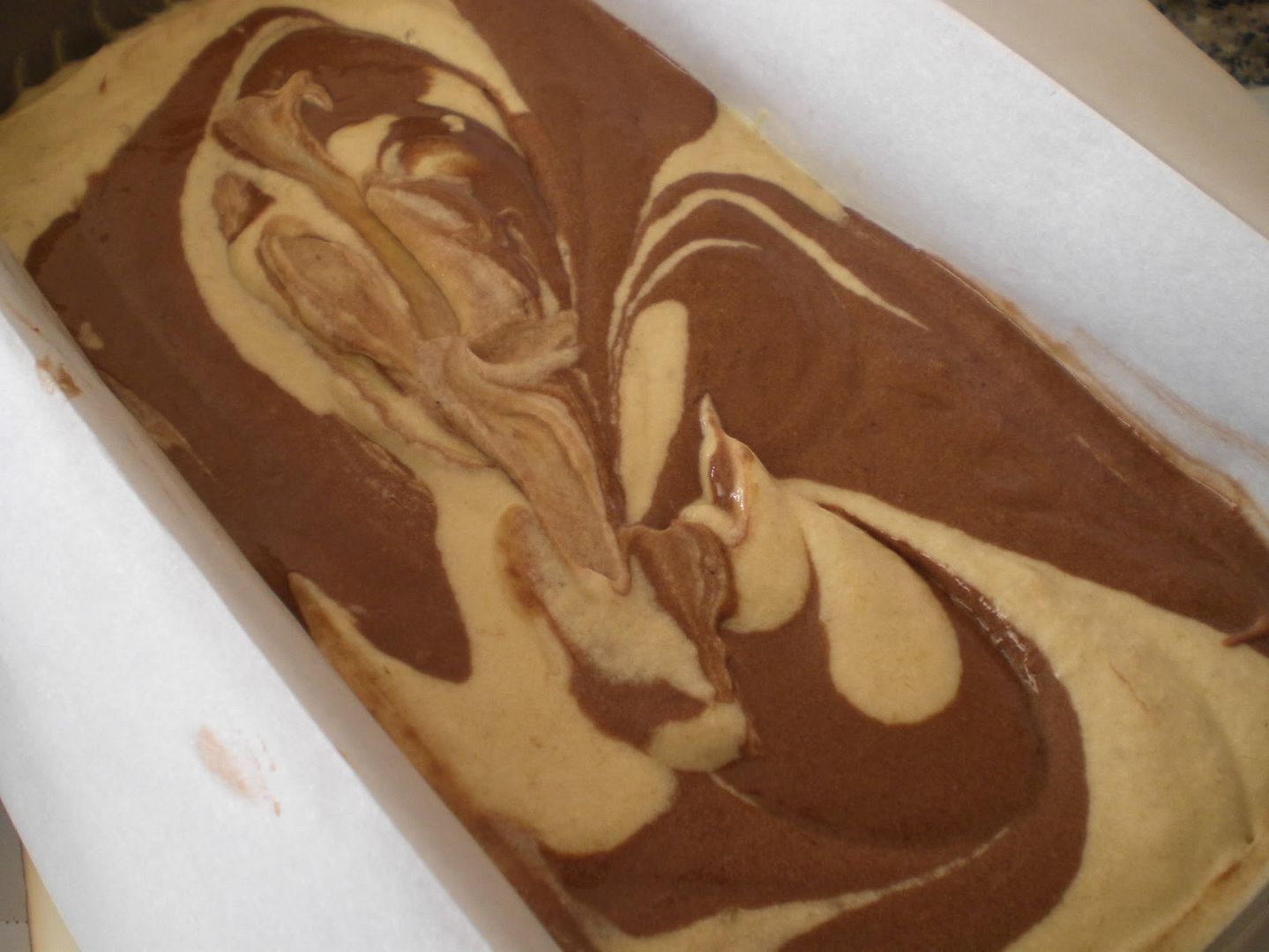 MARBLELIZE.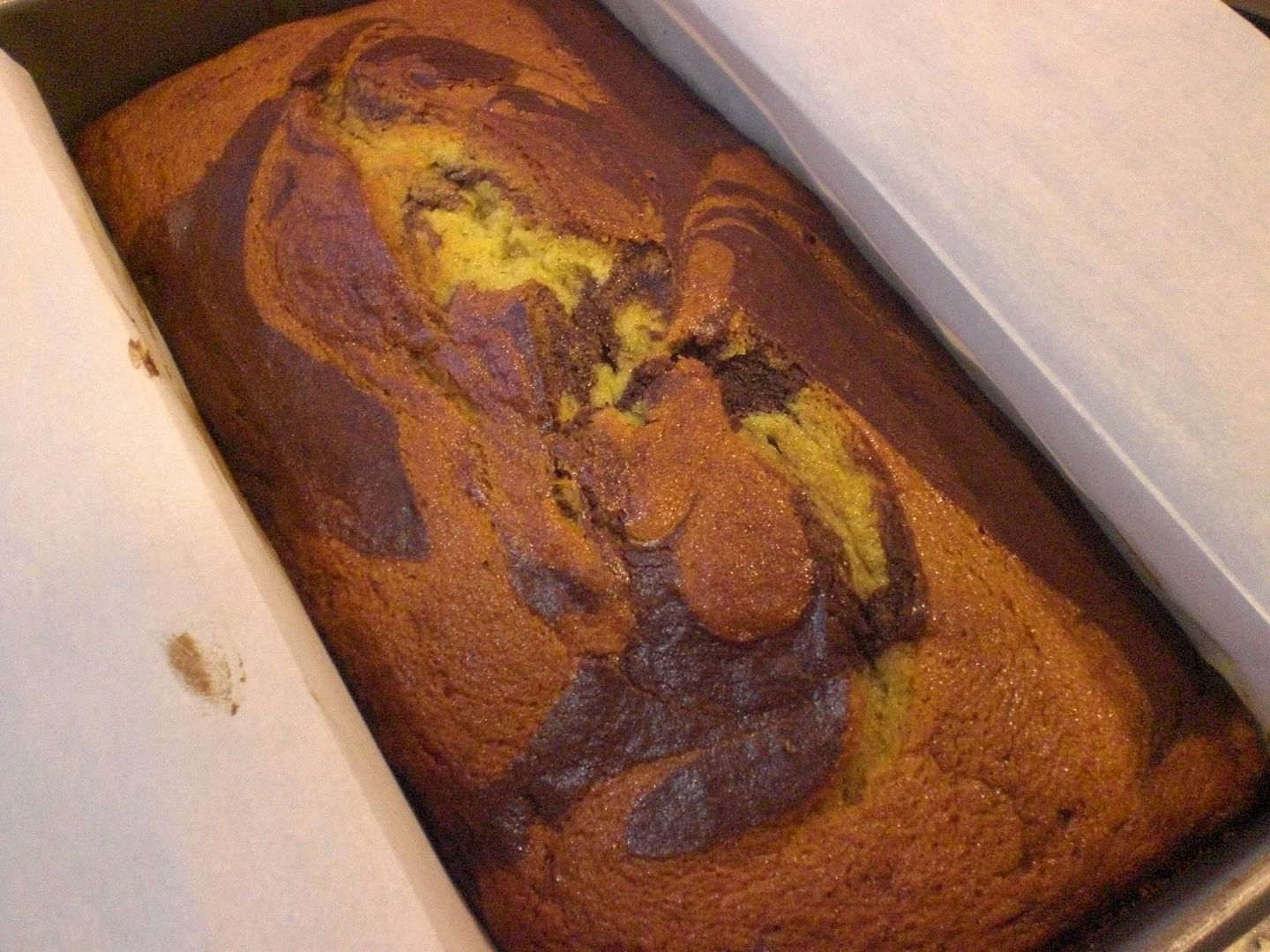 All done~ INHALE THE AROMA. Seriously they need to make air fresheners out of this stuff. ;D But seriously, this recipe is A REAL crowd pleaser. I say that because my family is super picky [American recipes tend to be too sweet, etc for the Asian palate.] and they absolutely LOVE this bread. I've made this so many times I think I can rattle off the whole recipe by heart! My friends and their families love it too so turn to this bread when you're not sure who likes what. [Just make sure bananas are cool with them. :D]
That's all for this recipe! Enjoy!
Until next time, Ciao ♥